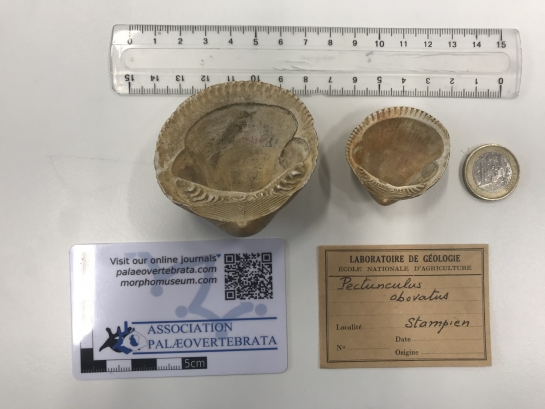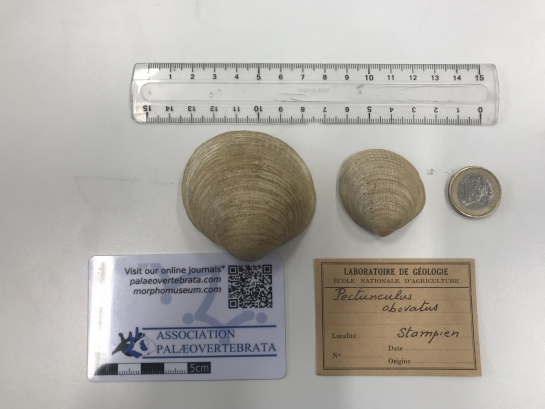 I am in second year of biology in Montpellier in France!
For this period we must make a taxonomic record on a fossil.
So I chose the species pectunculus obovatus
However, there are mainly two subspecies
-Glycymeris (Chevronia) obovata regeileii
-Glycymeris (Chevronia) obovata Baldii
All this asking me if it's not just Glycymeris obovata, Lamarck, 1819?
I do not end up with all the information I have them and wonder how to distinguish between these three?
cordially
Elisa
---
Hi Elisa,
Great that you have a paleotopic in your biology education. But please, as a science student, pay attention to basic taxonomy rules. First of all, Glycymeris obovata is not a genus, but a name of a species (so check the title of your inquiry).
I have never heard of Glycymeris (Chevronia) obovata regeileii, but possibly you are referring to the subspecies ringelei. Is it this one you looking for?
Also, subspecies names are not written with majuscule, so it should be baldii and not Baldii (although, if you go through old papers, it will be regularly written with majuscule, but this refers to a time there was not yet a well established ICZN).
Each subspecies is somewhat different. To sum up the differences, you should check the literature. Part of the answer is, how can it be, evolution

. But in general, species and subspecies within the genus Glycymeris are sometimes difficult to distinghuish on a single specimen alone, and a long history of misunderstanding is present in the scientific literature. A PhD student from Leuven (Belgium) made a brakethrough in the early 70ies, and revealed that indeed several different taxa existed through time, but that one, in order to prove it, needed to execute biometric analysis on populations collected from a single stratigraphic horizon prior to naming species and subspecies. Unfortunately, Dolf Ringele's PhD thesis never got published (painfull story), and only few people follow his idea. A good example is the paper in which a new subspecies of Glycymeris obovata was introduced, a species in his honour (Glycymeris (Chevronia) obovata ringelei), in which not a single biometric analysis was presented.
Happy hunting
Stijn
"Ammonites are the quintessential
fossils, seemingly covering all the
major themes of paleontology"
Eldredge 1996
---
Community Manager
Berichten: 1325
Lid geworden op: 11 nov 2003, 17:14
Has thanked: 106 times
Been thanked: 60 times
Nice finds!

(Posted to remove the spam from the mainpage)
My armour is like tenfold shields, my teeth are
swords, my claws spears, the shock of my tail
is a thunderbolt, my wings a hurricane, and my
breath death!
---
---